"Give It A Go" Session at the Chilterns MS Centre, Wendover, Bucks, 13th June 2019
I was invited to give members of the Chilterns MS Centre a Taster Sound Bath for one of their "Give It A Go Sessions" so I packed up many of my smaller instruments and set them up in The Sherling Room at the Centre. We placed the chairs on a circle with space for wheelchair users inbetween so everyone could see and take part.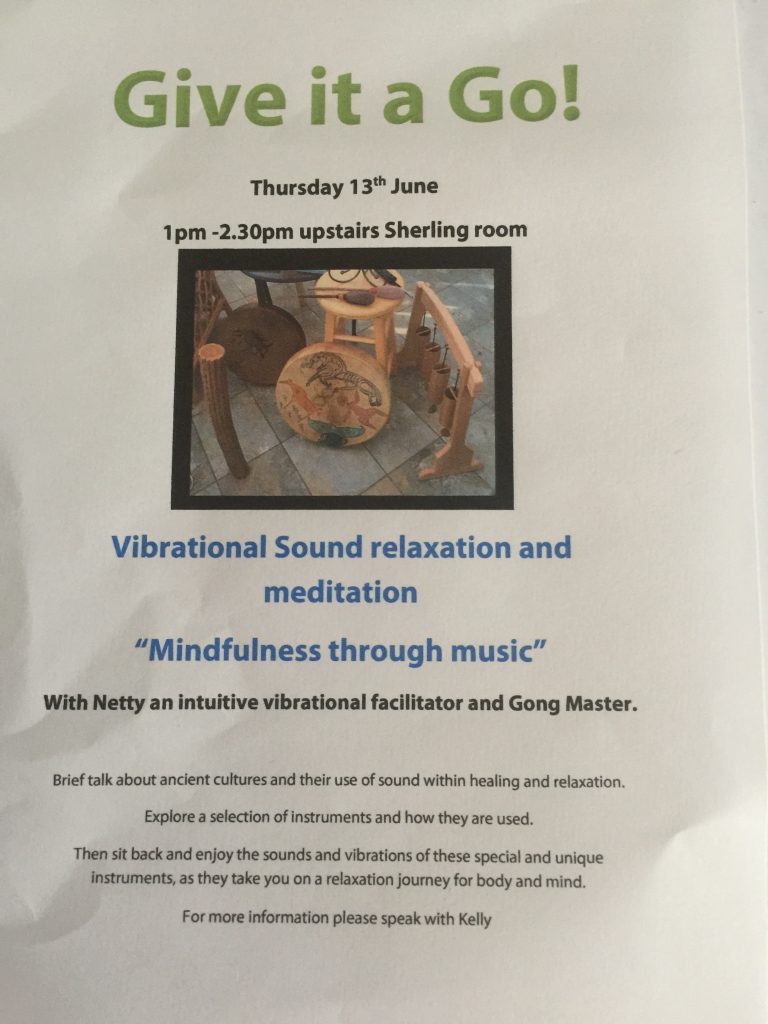 I made a short introduction to what a Sound Bath is and how Vibrationary Sound has been used across Cultures and Millennia to bring Relaxation and Healing. Then we "Cleared Our Auras" with either Agua di Florida (Lemon and Flower Water) or Agua di Palo Santo (Essence made from Palo Santo or Holy Wood).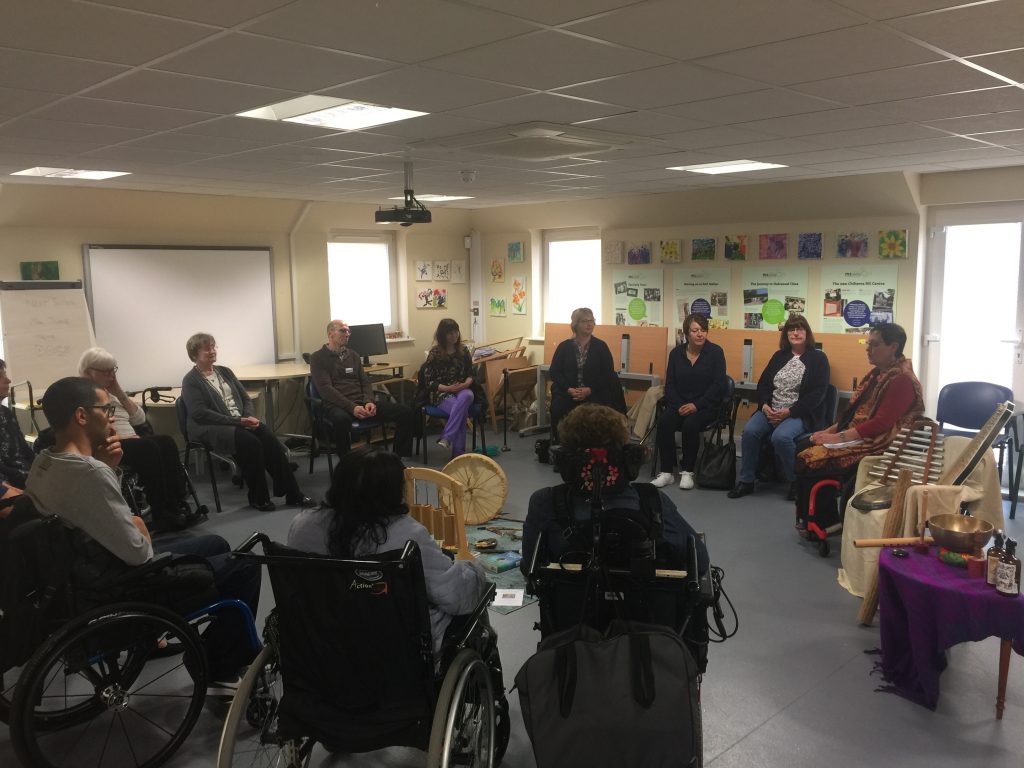 Then followed some slow breathing exercise and opening of each participants Heart Chakra with eyes closed. Shamanic Drumming with short guided Meditation followed and then the Sounds of various Instruments such as, Native American Flute, Rain Stick, Chimes in wooden frame, Shruti Box, Native Rattles, WaWa Tube, Koshi Chimes, Voice Toning, metal Tongue Drum, Insect Sounds, Singing Bowl and finally Angelic Harp accompanied by Intuitive Song ending with the Sounding of The Tibetan Tingsha Cymbals three times to bring the Session to a close and bring everyone back from their Journeying.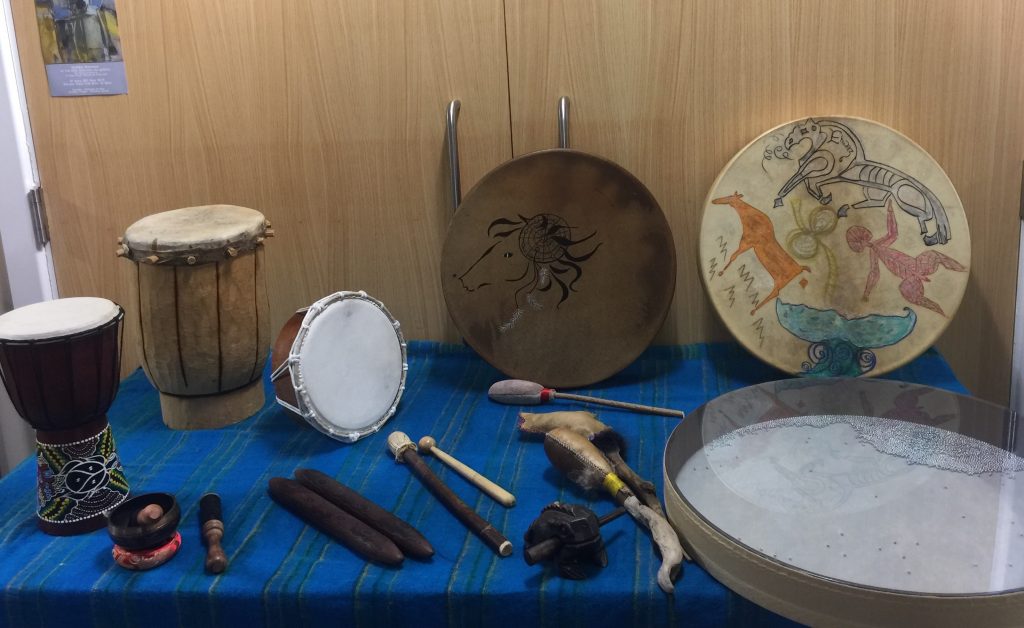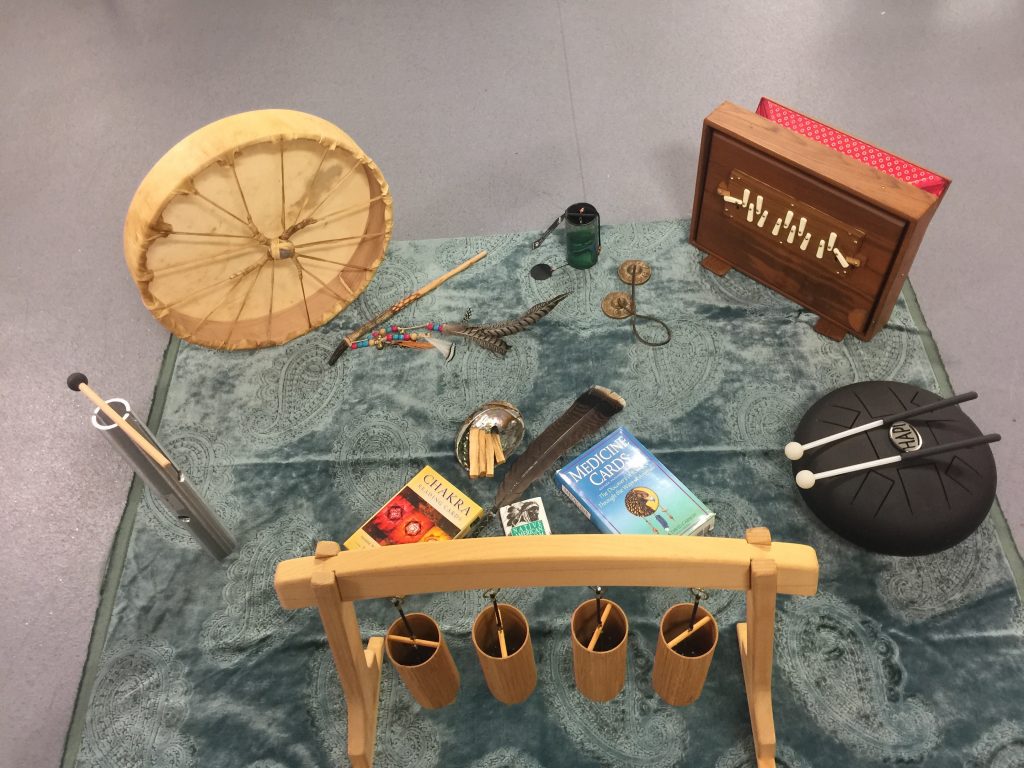 All fourteen participants felt Relaxed and at Peace. Some shared where they had travelled on their Personal Sound Journey while others were happy to sit in peace and tranquility.
The final phase involved getting everyone in the room trying out some of the instruments for themselves which produced much excitement, laughter and a feeling of deep inner satisfaction. Everyone became Animated and Involved and the room came Alive with the Buzz and Cacophony of Sound. There was much animated talk, questions asked and a real interest in Vibrational Mindful Music.
Every single person participated fully and asked when the next session would be held. For me as a Vibrational Sound Facilitator and Gong Master this Taster Session was immensely satisfying and I can see this Group and others possibly forming a Regular Drum Circle.
Vibrational Sound brings such Joy as well as Relaxation and helps us Live in the Moment allowing our bodies to absorb the vibrations on all levels.
I am sure TheSoundSanctum shall return to the Centre soon! Watch this space!
Namaste ?
TheSoundSanctum
"Give It A Go" Session Chilterns MS Centre