I attended one of TOBIAS Kaye's, of SoundingBowls.com , wonderful Sunday workshops this Spring in Devon. I just adore being around all the ready to make Sounding Bowls waiting patiently to be perfected before they find their Custodians. Just like we don't own the Land, Rivers, Mountains around us we do not own the Trees. We are honoured to be given the opportunity to become temporary Custodians in keeping the world around us as healthy as we can by Living & Loving that role to the best of our ability, while we temporarily share Time here together. It is just the same withTrees who are now living in another form as Sounding Bowls. The Sounding Bowls themselves choose their Custodians.
I had actually commissioned a small ? Apple Wood Sounding Bowl that I was due to collect that weekend. I had received pictures of two Apple Sounding Bowls one a Lyre Bowl and the other a Melody Bowl from which to choose; both exquisite in their own right. Wilfred had crafted two beautiful pieces under Tobias's tutelage. They both sounded beautiful but my dexterity allowed me to pluck the Lyre Bowl more efficiently. I loved the look and the feel of it but somehow we hadn't connected instantly and deeply.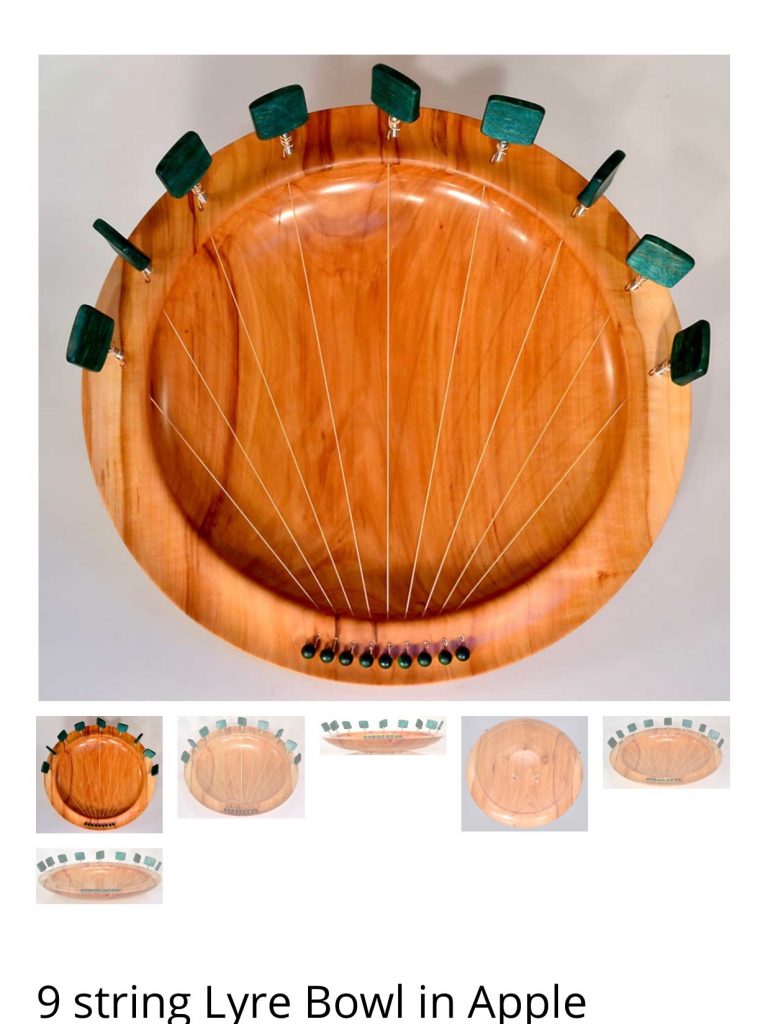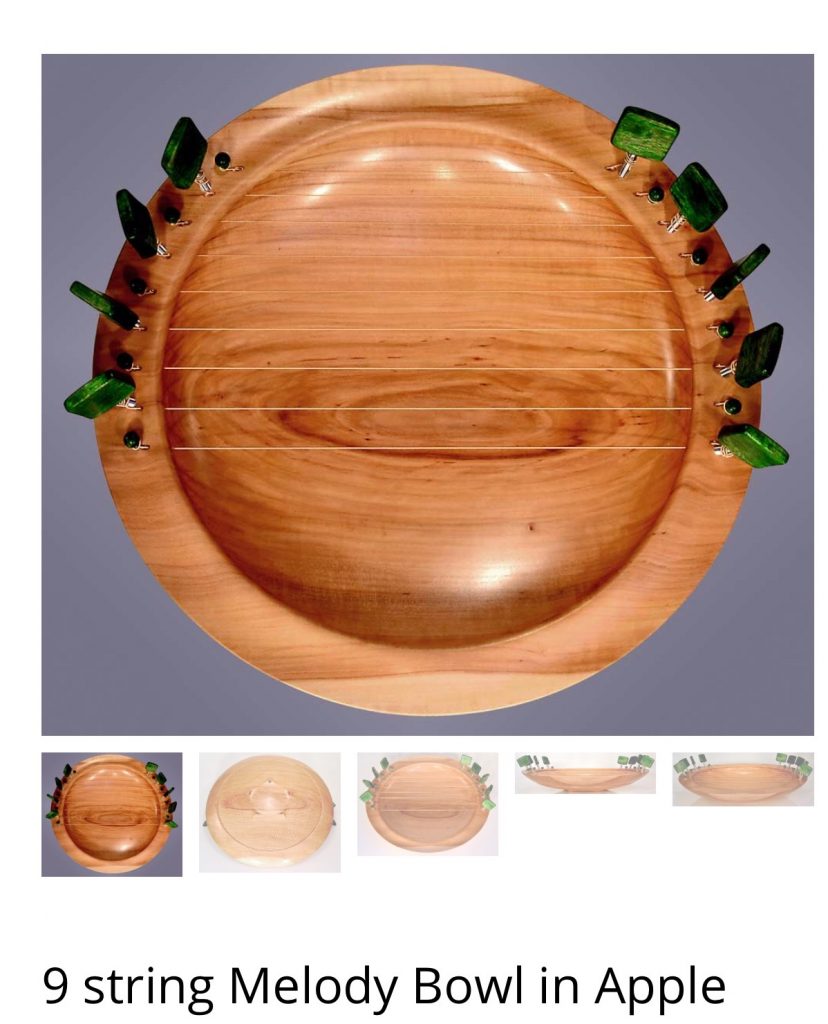 The Day progressed and all 7 participants played many of the Bowls in the Studio getting a feel for each one. Tobias then gave us each a Sound Bath of a few minutes with the Bowl of our choice. I chose a very large 23 string Lyre Bowl in Yew. I am automatically drawn again and again to the Yew Bowls even though I had commissioned something in Apple wood. I had a vision of the Apple wood Bowl representing the Summer Solstice and Yewen my Yew wood Heart Bowl representing the Winter Solstice. I have often played Yewen under the Apple Tree in my Garden for people while they sit with the Apple Tree behind them and the great Yew Heart Bowl in front of them nestled upon their lap.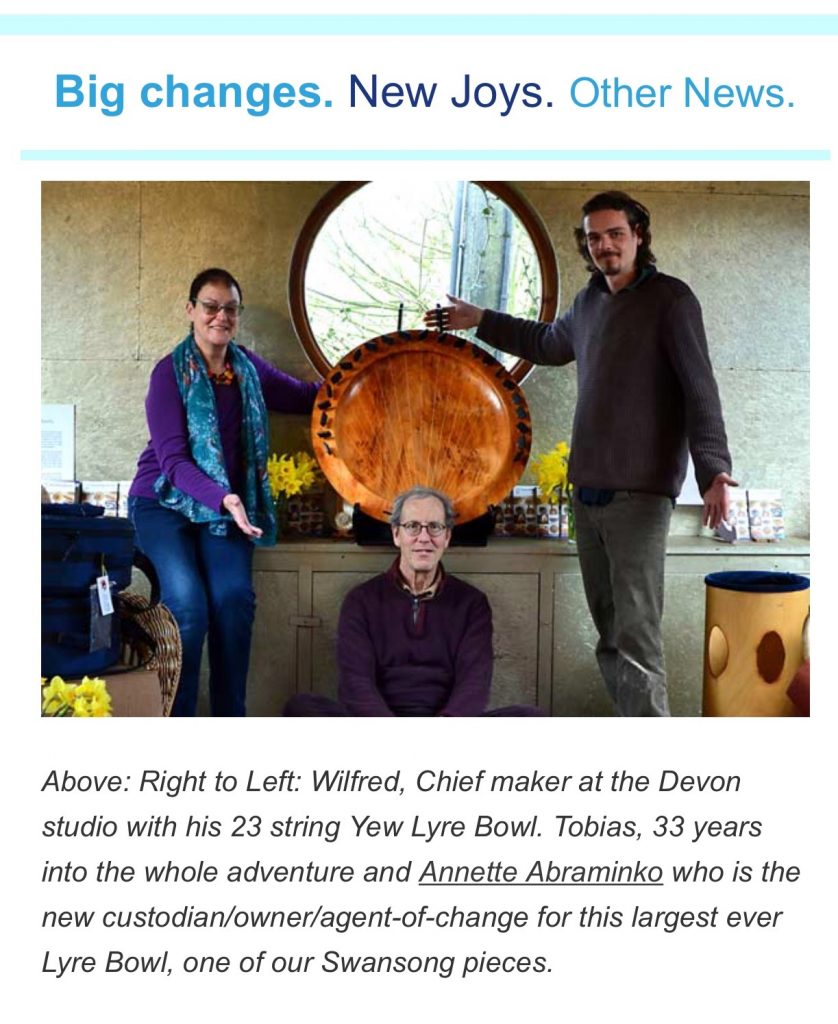 It seems this Great Lyre Bowl in Yew had a Vision for me. During my 5 minute Sound Bath with Tobias using this Bowl I had the strongest vision of being literally Birthed inside a great tube of pearly swirling colours of pale pinks and pales blues almost like the iridescent colours of a Pearl held within the shiny shimmering surface inside an Oyster. I looked upwards upon being Birthed in this emotional meditative vision, and saw a brilliant Star above me beyond the veil of colours, high up in the Universe. I felt at one with This beautiful Lyre Bowl in Yew. The Transformational Energy, I felt was Feminine. I Named Her "Pearl, Birth Star".
I became so emotional during this five minutes that I released tears and felt my Heart Chakra, Third Eye and Crown Chakras all responding simultaneously. I felt great Transformation into Love, Release and Gratitude. I knew she would be travelling home with me as she had chosen me as her Custodian. Her Eternal Ethereal Energy anchored in Earth would be the perfect match for Yewen Great Heart's deep Heart Grounding Energy.
The Sounding Bowls innately choose their Custodians & develop a close relationship with us. They are our Mentors, our Gentle Loving Teachers helping us and those around us Unfold into The Full Richness & Depth of Sharing their Life Messages. I believe The Trees themselves have found a way to allow us to Evolve alongside them through the Vision that was Gifted Tobias 33 years ago!
TheSoundSanctum